Kawartha Potters Guild draws potters from Peterborough, Lindsay and the surrounding area of the beautiful Kawarthas.
Our meetings are every second Sunday of the month at 2:00 pm. No meetings for July, August or December.  During Covid, all meetings are held via Zoom.
Past Meeting Presenters
May 10, 2021
KPG welcomes the multi-talented Monika Schaefer back for our May Zoom meeting. She has done 4  workshops for us in the past and always an interesting learning experience.   For this meeting, she will demonstrate how to make and construct a garden totem, with some examples of the results.  Monika has a background in print and graphic design. She retired from running her own design company after 12 years and decided she wanted to make art. After taking pottery classes, she now makes whimsical and colourful items for the garden. To further her interest in art, she took a felting class to expand her need to be creative. During
2020, Monika did numerous online workshops and the garden totem session was a big hit. Check out Monika's website.
May 14, 2018
Korea for the Armchair Traveller
Six members of the Guild were fortunate to travel to Korea for three weeks this past February to study with many different Master potters.  It was a very hectic, but inspiring trip and they will be bringing some of their work and have a slide show to help illustrate their experiences. 
June 11, 2018
Joyce Jenkins
Joyce Jenkins is an Ottawa potter who works out of her own studio in Old Ottawa South.  She is a fixture at the Old Firehall Pottery Studio where she has shared her love of clay with children of all ages for many years. Jocelyn specializes in spectacular sgraffito and will be giving us a talk and slide show of her work.
Our April 2018 Guest Speaker
We'd like to thank Cathy for joining us this month for a really enjoyable talk and, from observing our members, a fun experiment in surface decoration!
Cathy Francis is joining us for our April 9th Meeting. Cathy Francis is a Muskoka-based potter whose current work explores the creative process in sculptural form. Using thrown vessels and applying underglazes to the surface, she builds the parts that as a whole illustrate the ways in which influence, inspiration and place effect the evolution of a finished piece.
The Vessel as a Canvas – with Cathy Francis
After a short introduction to her latest work and thoughts on participating in FUSION's Creative Directions mentorship, she will demonstrate how she uses underglazes within her work to create sketches on vessels.  Images from her creative process will be on display along with samples and finished pieces created for the FUSION group show, UNEARTHED at the Robert McLaughlin Gallery.   Participants will be invited to create their own unique work on a tray or other bisqued samples provided. If you have brushes, pips, ceramic pencils, underglaze sticks, small paint trays, or any other materials that you would like to work with bring them along. Use your own sketch or some ideas will be available to get your creativity started.
Guida Pirita – October 2, 2017
Guida came to the KPG 2 years ago and hosted a wonderful day-long textured stamp workshop, where participants created their own one-of-a-kind stamps.  If you attended this workshop and would like to bring some of your work samples, Guida would be thrilled if we could do a quick "show and tell"!
This time around, Guida will be demonstrating how you can use your prized stamps to create beautiful work using slab and wheel thrown techniques.Time is limited so she will come with examples of finished pieces and a few projects that will show the steps involved.
She is looking forward to this demo so that it may inspire you to venture out into, yet, another outlet of our vast pottery world.
For a CV and more details, click here.
Terrie MacDonald – June 12, 2017
Terra Dolus Pottery
Working with clay is a physical pleasure. Its plasticity and transformative qualities are sensual and alluring. Creating objects that people bring to their mouth, use to nourish themselves, alone or with family and friends is a great honour.
For me pottery holds an important role as a vehicle to celebrate domestic activities that are intimate yet also rather mundane. Handmade vessels can be more than functional objects in a domestic setting. They can remind us that beauty and moments of reflection are found in the everyday activities that occupy us.
I graduated from the Nova Scotia College of Art and Design in 1998 and have been working full time in clay ever since. Using earthenware clay I concentrate on table and accent ware for the home. In 1999 I received a grant from the Ontario Craft Council and chaired the 1999 Fusion Conference: Reflections. I have been a Ceramics Instructor at the Kingston School of Art and the Kingston Potters' Guild. Since 1999 I have taught at Loyalist College in Belleville. In 2003 I was invited to join the Colborne Art Gallery, an artist run cooperative which features six annual shows and served as Treasurer until 2014. I have also taught specialized workshops for many potters guilds around the province as well as Fusion the Clay and Glass association of Ontario.
Technical Information: Using earthenware clay, vessels are hand built from moulds and templates that I have created. Slip (liquid clay) is applied on top by brushing or pouring. I draw through this layer of slip to reveal the red clay below in a technique called 'sgraffitto'. Once bisque fired colour is applied by using various glazes painted with in the drawn design. Glazes are food safe and oven proof. All work is fired to cone 03.
Price Point: Price points have a range from $20.00 to $300.00. I have a wide range of items, trays, bowls, and serving dishes, which range from $40-90.00.
Thom Lambert – May 8, 2017
Thom is a potter living and working in the Haliburton Highlands. His work ranges from everyday, functional pieces to one-of-a-kind raku and saggar fired pieces. Largely self taught, Thom has been working in clay for 20 years. His inspiration comes from landscapes, both large and small: grand canyons and the line of windblown snow, great lakes and the curve of gray jays against the sky. He will try just about any technique in pursuit of this inspiration, but relies mostly on texture, glaze inlay, altering wet clay, and slip decorating.
Demonstration Topic:  Texture is widely used in both hand building and wheel-thrown work. This workshop will take texture to a different level by exploring the stretching, compressing, erasing, and altering textures to achieve more visual interest. Special consideration will be given to the relationship to when – in the ceramic process –  a mark is made, and how that affects the visual message that you want to convey.  Thom's FB page is here, if you want to see more.
April 10, 2017 – Rhonda Uppington
Bio: Rhonda grew up on a farm north of Lakefield where she enjoyed art classes in high school but opted to study science at the University of Guelph. Upon graduating, she worked as a biochemist in pharmaceutical research for 4 years before becoming a stay-at-home mom. Taking courses at the Haliburton School of the Arts during week-long vacations with her family, Rhonda learned the basics of relief and collagraph printmaking, mosaics, concrete sculpture, ceramic tile making (2007) and wheel-throwing (2016). Combining printmaking techniques with ceramics allows her to enjoy both mediums simultaneously. Primarily a hand-builder with leather hard slabs, a soft-slab course with Heather Smit opened her eyes to a new way of making. The natural world influences her work, and leaves, flowers, birds and butterflies are recurring subjects. Rhonda became a studio member of the Pine Pine Tree Potters' Guild in the fall of 2014 where she enjoys the camaraderie and inspiration that the shared studio experience provides. Her work can be found in the shops of the Gardiner Museum, Craft Ontario, The Clay and Glass Gallery, and the Aurora Cultural Centre.
My work: My work is predominantly hand-built, focused on surface texture and applied decoration.  I am drawn to the minutiae in everyday life, the delicate details created by the hand of man or Mother Nature that, in our hurried lives, are overlooked by many. I seek out these objects (handmade tatted doily, poppy seed heads, leaves, feathers) and use them to decorate my surfaces. Coming from a printmaking background, I also create my own printmaking blocks, which I use to either impress the clay surface or to print on it with underglaze. Sgraffito is natural for me as it is similar to the process of carving a linocut block. I have recently begun throwing; I prefer to work large on the wheel and smaller when hand-building. Because people want pots they can use, I do make some functional work, but I prefer the tile-based, more decorative part of my practice and would like to one day do a public art installation.
What I'll demo or speak about:
Carving a lino block, using it to impress the clay surface or to print on it (directly or through newsprint transfer).
Carving a plaster stamp.
Collagraph printmaking plate.
Roulettes.
Making bisque stamps or texture plates.
Found objects to impress the clay surface.
Sprigs – adding to the clay surface.
Underglaze – wash to accent texture, paint on directly, with sgraffito, as an overglaze, silkscreen (commercial ones from Mayco), resist.
Sgraffito – with slips and/or underglaze
Slip decoration – brushing, trailing, sgraffito, resists
March 13, 2017 – June Goodwin – glaze tests
February 13, 2017 –  Ray Shivratian
Throwing Lidded Pieces as One
KPG member Ray Shivratian is our guest presenter for this coming Monday evening's meeting.  Ray has a wide range of skills as a potter….and his main interest is really just doing it for fun!  Ray will be showing us how he throws lidded pieces as one….and he will be bringing some examples of his work to show.  Hope you can join us!
January 9th – John Bandurchin – Tips and Tricks
November 14 – Pricing your pottery
October 3, 2016 – Trudy Shultz – Porcelain Incising
Trudy has worked with clay on and off as a hobbyist for over 30 years and she is a member of both the Waterloo Potters' Workshop and the Hamilton Potters' Guild. Since recently retiring from teaching languages at high school, she's had more time to spend in the workshop! Trudy works with porcelain because of the purity and whiteness of this clay body. It also lends itself well to piercing, incising and decorating with coloured slips and ceramic pencils. The simplicity of the clear-glazed porcelain showcases the colours and beauty of the flowers or food that the vessels will contain, but she strives to create unique elements that also allow the pots to stand on their own as decorative pieces. The whimsical button and zipper pots were originally designed for the Fashion History Museum in Cambridge.
Trudy will show some photos of past and present work and bring in some samples. She will demonstrate how she incises the rim of a bowl and a handbuilt piece, and will bring in a piece for anyone who wishes to try these techniques. She'll be happy to answer any questions about this type of technique.
September 12, 2016 – Diane Creber
We are fortunate to be welcoming crystalline potter Diane Creber to our September membership meeting! Diane has an amazing reputation in the ceramic community for the crystalline glaze process. At the meeting she will be explaining the crystalline glazing process through a talk and demonstration. The explanation will cover suitable clays, forms, making and mixing glazes, glaze application, and the firing process.
She will attempt to demystify this glazing process with an understanding of the materials and how they will react in the melt. She should provide enough information that even the beginning potter will come to understand the materials used in a glaze and will feel comfortable trying this glazing technique. This meeting is not to be missed!
Check out www.cronklakestudios.com.
You can also see some great info on the Ceramic Arts website
June 13, 2016 – Scott Walker and Lucia McHardy
Handles and Knobs
We have a had a few special requests for demos over the last months, so we are happy to announce that Lucia McHardy and Scott Walker will be covering the topic of handles and knobs at the June 13th meeting. Scott will be focusing on pulled handles, and "thrown" knobs and will show us a variety of methods on the wheel. Lucia will be focusing on the handbuilding component.
We are fortunate to have these two long-time Kawartha Potters Guild members and are excited to see their techniques in person.
Scott is currently our Pottery III instructor and brings his extensive experience and passion to the art of throwing on the potters wheel.
Inspired by traditional pottery from Japan, China and Europe, Scott's pottery (Walker & Co) draws heavily on classical form elements with its clean, bold lines.
On light coloured stoneware and white porcelain clay bodies the safe and functional glazes range from jade greens and blues to rich brick reds and burgundies. The glaze palette reflects the rich colours that surround us in our natural environment.
All of Scott's pottery is safe for domestic use from oven to table to dishwasher.
Lucia has an amazing array of handbuilt pieces which are a source of inspiration for ceramic artists alike.
May 9, 2016 – Lisa Skog, Raku and Wood-Fired Pottery
Lisa Skog will be visiting the KPG at the membership meeting on Monday, May 9th and host a slideshow and talk.
Lisa has been working with clay for over fifteen years. What started as an enjoyable pastime with friends quickly became a passion. After studying various techniques at Mohawk College and the Haliburton School of the Arts, she left a career in scientific research to become a full time ceramic artist. This research background has allowed her to pursue glaze development and challenging firing techniques, primarily raku and wood-firing. With these techniques, each piece is unique as variances in the firing process prevent any effect from being duplicated exactly.
She creates a variety of items ranging from jewellery and Christmas ornaments to life-sized sculptures. These objects can be either wheel-thrown or handbuilt, often with incorporation of stamped and moulded elements. Some of her pieces include transfers created from photographs of her travels. She often decorates with multiple layers of glaze in an attempt to obtain original, rich surfaces.
Her work is constantly changing and evolving as she gains inspiration from her travels and encounters with other artists. A recent mentorship with ceramic artist Catherine Weir has encouraged the creation of more artistically challenging pieces.
She is honoured to be represented by several galleries and participate in numerous shows and sales throughout the Niagara Peninsula and the GTA.
Her work has been included in the books: 500 Prints on Clay: An Inspiring Collection of Image Transfer Work and 500 Raku: Bold Explorations of a Dynamic Ceramics Technique.
For more information, check out her website.  Click on any image below to see more detail.
April 11, 2016 Slip Trailing with Suzanne Woods
Suzanne's love of pottery began when she realized that she could take a lowly lump of clay and create something both beautiful and functional.
Over the many years that she has been potting, she has had the great fortune to be able to study with many talented teachers. Each has contributed in their own special way to the development of her wheel and hand building skills and decorative techniques. She continues to learn with every pot that she makes. All work is done using a porcelain/stoneware clay mix, fired in an electric kiln to Cone 6. Only food safe glazes are used in firing and all pieces are oven, microwave and dishwasher safe with appropriate care.
Suzanne's work is sold in Warkworth (The Eclectic Mix); Peterborough (Art Gallery of Peterborough, Chasing the Cheese, and Kawartha Potters Guild gallery) as well as at her home studio.
For this demonstration, Suzanne demonstrated her slip trailing techniques and brought in supplies and bowls for us to try ourselves! A lot of members were excited to try this technique and every bowl that was brought in, was decorated!   These bowls will now be fired and glazed by KPG and donated in support of the Empty Bowls project for the 2016 year. Here are some images of Suzanne's fine slip trailing work.
March 14, 2016 – Kaitlyn McGill – Making & Applying Slip

Kaitlyn McGill will show participants how to mix their own slips and how to use them for a variety of surface techniques including Sgrafitto, Mishima and Paper Resist Stencils. Each participant will leave this Demo with a 500 gram batch of Slip to use at home. Come join us for an evening of fun and creativity with clay.  Nominal fee for cost of slip – approximately $4.  Please bring your own container – approx size of a regular sour cream container.
Kaitlyn is one of our instructors at the Kawartha Potters Guild.  To read more about her, please visit our Instructor's page.
Here's a link to Carole Epp's @musingaboutmud emerging artist statement about Kaitlyn:
http://musingaboutmud.blogspot.ca/2013/10/emerging-artist-kaitlyn-mcgill.html
February 8, 2016 – Priya Harding
Priya Harding will be our guest presenter for February's meeting. Priya will be demonstrating trimming and finishing techniques for wheel thrown pieces, looking particularly at creating a glaze "break point" and an appropriate foot for the pot's form and function.
She will also do a short demo of her brush strokes we have all come to love and admire in her work. She will bring bowls for members to practice on, to subsequently donate to the KPG Empty Bowls fundraiser in September.
November 9, 2015 – Bill Reddick
A demonstration of throwing techniques.
October 5, 2015 – Presenter: Ceramic Arts presenting Mayco Colour Products
Discover Mayco Colour Products. Ceramic artist Michelle Lynn will demonstrate a few of Mayco's products. Designer Liners, Designer silk screens, stoneware glazes and other creative tools such as stamps, mats brushes and anything we potters desire (for decoration on pots!).
September 14, 2015 – Membership renewal time
It's that time again, our first meeting of the pottery year, and with it comes our membership renewal.  Join us on Monday September 14th, renew your membership and enjoy our first presenter of the season.
Linda Williams – Presenter for September
Linda studied animation at Sheridan College and worked in the film industry in Toronto for several years, so when she began working with clay, it was natural for her to focus on the human form. An interest in life drawing and dance also influenced her figurative sculptures.
In 2011, during a Fusion mentorship with Angelo Di Petta she set a goal to reduce manipulation of the clay by hands and tools, and this technical challenge inspired enormous creative changes. Through experimentation, her work evolved into a method of stacking and assembling torn slabs. She now focuses more on gestural lines than the actual human form.
This work has continued to evolve. One piece, Shuffle, was accepted to FUSION Fireworks, 2013 and also received the Purchase Award. That recognition inspired her to continue with this body of work and to make the sculptures larger. To achieve that goal she participated in ceramic arts residency at Medalta, in Medicine Hat Alberta in Sep/Oct of 2014
June 8, 2015 – Dan Ferguson
Dan Ferguson spoke about Pit firing and the process of getting a pot ready to a successful pit fire.
May 11, 2015 – Linda Harris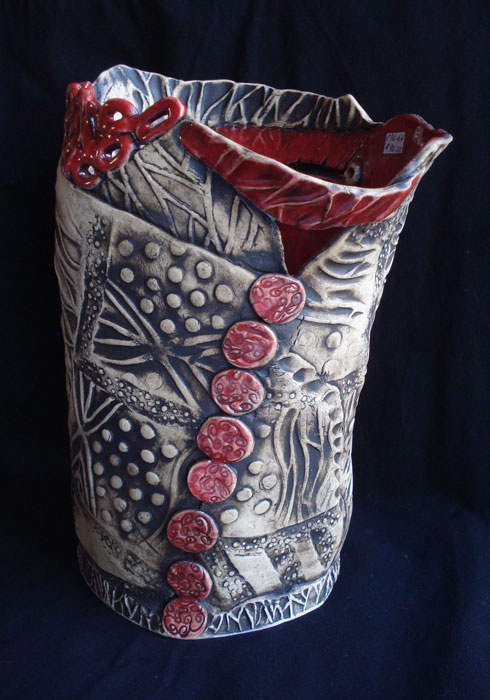 Linda's passion for pottery began 10 years ago when her son gave her a gift of pottery lessons. Since then, she has retired to Bobcaygeon, built her own studio and her work is displayed in numerous galleries.
Being a self-taught potter, she has attended many conferences and workshops and still takes classes to better her skills. Linda works on the wheel as well as hand building, focusing on form over function.
For this demo, Linda will be hand-building two different items: leaves without a pattern and a small lidded container.
April 13, 2015 – Mary Sullivan – Stamps, Sprigs and Shot Glasses
Mary is going to be giving a demo on how to make your own stamps made with clay, found materials and even (horrors) plaster.
March 9, 2015 -Susan McDonald
Susan will be our guest demonstrator at the March 9th meeting. She will be bringing loads of things with her and she will cover an assortment of tips and tricks. She has recently demonstrated at the Northumberland Potters Guild.
She has some items from China that she will be bringing and we'll be eager to see all her great ideas! Visit Susan's website for more information on her fabulous stuff. http://www.practicallypotty.com/
February 9, 2015 – Scott Walker
Scott Walker demonstrated about taking care of your tools and making plaster bats amongst other topics.
We had a wonderful demo with Scott Walker last night. He had every imaginable tool onsite! Vacuum cleaner, grinder, blow torch, bench vice grip. We learned how to make a hole maker with brake line, a nice angled tool for getting rid of b
its on the inside of a teapot using a toothbrush, and even how to make a plaster bat! He showed us how to sharpen our tools and how to make a trimming tool out of small saw blades too. Seems that potters are very resourceful!
January 12, 2015 – Thomas Aitken
Talk is: "Out of the Run"
Well known for his production of classic 'small run' domestic ware, Thomas also creates one-off pieces that express his fascination with the process of making and the boundaries of the functional object.
For this month's presentation, Thomas demonstrated some alternative approaches to making pieces that combine thrown and hand-built elements. It was a fun evening and for pictures of the evening, please visit our news page.
Thomas Aitken's website
Kate Hyde's Facebook page
November 10, 2014 – Marney McDiarmid
Bio
Marney McDiarmid is a self-taught potter who creates slab-built ceramic pieces known for their grace, whimsy, and unusual beauty. The pieces are finely constructed to emphasize porcelain's potential for translucence, highlighting the object's fragility and sensuousness. In much of her work she combines found objects, organic materials, text, stamps, photo transfer and decals to explore our construction of nature as a source of replenishment.
She currently maintains an active studio practice and teaches in a variety of settings. Exhibition history includes Modern Fuel Artist-Run Centre (Kingston, ON), Wall Space (Ottawa, ON), and the View Gallery (Old Forge, NY). Her work is available at Artopia (Sarnia), the Gardiner Museum Shop (Toronto), the Petroff Gallery (Toronto), Wall Space (Ottawa), and the Kingston Glass Gallery. Her work has been featured in the National Post and in Lark Books' 500 Prints on Clay.
Demo description
Marney McDiarmid's slab-built pieces are rich with texture and imagery. Referencing the natural and human made environment, she employs a range of stamps, molds, and imagery to created densely patterned pieces. In this demo she will provide an overview of some of her work and then use this as a point of departure for the exploration of various surface treatments. She will demonstrate the use of wax resist and drawing, photocopy transfer, bisque tiles, and underglaze stenciling, stamping, and paper resists. The demonstration will explore how to use a collage approach to develop a narrative thread in your work.
Here are some images of Marney during the presentation.
October 6, 2014 – Barb Banfield
Barb Banfield will present a combination of throwing and handbuilding.
Artist Statement
I designed my own successful line of clothing for two decades and my passion for working with my hands now finds its expression in clay. The art and craft shaping wet clay into beautiful pieces demands that same attention to design, line, surface and detail.
I am intrigued by the hands-on process, working with the wheel, altering and sculpting and watching a piece come to life. The challenges that come with the glazing and firing are opportunities to me. My practical nature demands that the objects I make are not just beautiful to the eye but also useful to living day to day.
My personal interest in the outdoors and traveling has inspired me to borrow from nature and architecture for my work. Added surface textures and fluid, variegated glazes, are much like the snow laden pine trees or the rain pools in a sunken, lichen covered rock. At times, architectural shapes intersect with the soft natural lines just as the urban and rural landscapes collide. I draw from the world that surrounds me; these porcelain pots and glazes are the creative expression of what I see that gives me joy.
June 9th Meeting with Liz Sine and Dan Ferguson
We had our AGM meeting on Monday, June 9th, and our presenters for the evening were our very own Liz Sine and Dan Ferguson. They were talking about two different ways to prepare your pots for a pit firing or raku.
Pit Fire Preparation Workshop – Dan Ferguson
showed pieces in porcelain and incised raku piece; discussed burnishing foot for polished look; smoke fired piece in dark raku clay; uses Thompson raku with grog and cone 9 or cone 6 stoneware or porcelain
use steel rib after throwing to remove slurry and also after trimming to smooth surface
pit fired pieces are not vitrified, so decorative only
saturate cloth with any oil (baby oil, vegetable oil) and rub it in gently over a portion of the dry greenware, then begin to burnish gently with a flat stone in a fairly open hand, under the fingers (45-60 minutes for a medium sized piece); use a smaller stone, keeping shape of pot and stone in mind, and grip it lightly to burnish tight curves
you can also use the back of a spoon for faster work over large, even areas, but stone best
no bowls or plates! Pieces need to be slightly closed towards the top
3 pieces can be brought to event
pieces are bisque fired after burnishing (1600 F / possibly cone 010) for more open body and better absorption and colour in pit firing; pieces don't need glazing; oxides can be sprinkled on the straw around a pot to fume colour
Liz Sine
showed pit fired and carved smoked pieces
iron oxide or stains can be added to terra sigillata
recipe for terra sig will be sent to Mary to send out: includes water, ball clay, etc., let sit for 2 weeks, siphon off middle 3rd to use
uses Tuckers mid smooth stone, smoothed with steel rib; total of 3 coats of terra sig are applied with a large, soft brush
one coat at a time on a section at a time; wait until absorbed and then burnish/polish with a cloth, then move to next section etc. and continue until all of pot and all 3 coats applied and polished
apply first coat using banding wheel, then go in opposite direction for 2nd coat (i.e., vertically, top to bottom); last coat as desired; do bottom as well
don't put it on too thick, as it may peel
bisque to 1600F then pit or smoke fire; then coat with beeswax
smoke firing involves putting pots in a barrel filled with combustibles and manure
May 12, 2014 -April Gates
April Gates was our guest in May. She decorates primarily on greenware (just beyond leather hard) using underglazes, slips, resists and water etching. There isn't much manipulation to form, it's all about surface decoration for her. She had some work to demonstrate, and had some beautiful finished work for us to see as well. You can see her work at her website blackbirdpottery.ca
April 2014 – Our own Margrit Beesley demonstrated her techniques:
demo on how to make a simple mold from clay
demo on how to use the mold making a bowl
demo on how different clay formulas react differently using a mold.
Margaret mentioned that she was inspired/learned from the following sources.
February 10, 2014 – presenter Marcelina Salazar
We are pleased to welcome Marcelina Salazar as our February presenter. She is a former member of the KPG and now lives in Chatsworth, Ontario. She works in porcelain and will be talking about the idiosyncrasies of that discipline as well as wood firing.
Bill Reddick – November 11, 2013
Bill works primarily with high fired translucent "English" porcelain, he also creates stoneware pieces which evoke the Japanese wood fired ceramic tradition.
He will be bringing some of his work and talking to the guild about his work, and there will be a slide presentation.    He has just recently moved to the Peterborough area, and we are happy to have this accomplished potter in our area.  His website is at billreddick.com–
Ron Roy – October 21st, 2013
Because of Thanksgiving, our meeting was one week later than normal.
Our guest will be glaze guru Ron Roy, author of Mastering Cone Six Glazes. To prepare for his presentation, he has requested that you submit a glaze formula that you might be having problems with, or want to change from shiny to satin, or change the colour, or if it is too runny. He will reformulate them, send the formula back and you will be able to test the new formula and have the result ready for the October 21st meeting.
We have images of Ron and his talk on a blog post here.
 Monica Johnston of Frantic Farms – Sept. 9, 2013
Monica Johnston of Frantic Farms in Warkworth will be our guest speaker, demonstrating her unique use of underglazes and how she applies them to her work.
A very painterly look which you might want to try at home.  See our post on Facebook with photos!
June 10
We had a photographer from Trent Photography who gave tips on photographing our work and gave suggestions on how to better show it off in photos.
May 13  Liz Willoughby
April 8
Critique Night with Angelo diPetta. Angelo will review your work and provide suggestions and ideas on how to improve the design of the work, how to approach a new idea, how to evolve new ideas. Please bring some pieces of your work, which you feel you would like a fresh look at how to enhance the pieces. Angelo is a retired instructor with Ontario College of Art & Design in Toronto.  See his paper on Critical Thinking here.
March
Darlene Malcolm Moran did her demonstration about "FINISHING".  We have images on Facebook, and will have the video of some of her demonstration on YouTube soon….
February
George Stewart did a talk about glazes.
Rhonda Causton
Rhonda did a 15 minutes slide show and discussion on what she would be teaching in her upcoming course.
November 12, 2012– Presenter – Christie Gruppe
Christie Gruppe is a talented potter as well as the  President of the Hamilton & Region Potters Guild.  We had the pleasure of her visiting us as a presenter approximately eight years ago and are happy to welcome her again.
Christie's Statement
Christie Gruppe has been playing in clay for the past 18 years. Early on she attended and graduated from Sheridan College where she studied with Bruce Cochrane and Winn Burk as well as many visiting artists. Christie then went on to receive her Bachelor of Fine Arts in Ceramics from the Nova Scotia College of Art and Design (NSCAD). Since then she has participated in many craft shows,guild sales, juried shows and had numerous solo gallery shows. Most recently she participated in the Fusion mentorship program with Angelo diPetta as her mentor. This experience allowed Christie to explore the clay surface, combining many different techniques on one surface.
Known for her brightly coloured press moulded and whimsical pottery, she is now working in Earthenware using underglaze to transfer, stencil, resist, mask and trail colour across the clay surface. Also a long time fan of working with patterns or templates to aid in achieving a form with slabs of clay; Christie created the forms for the mentorship project using tar paper templates.
After showing some images of past and current work, Christie will be discussing and demonstrating the merits of handbuilding with slabs using Tar Paper. Bring your own scissors to the meeting if you would like to go home with your own template!
October 1st, 2012 – Presenter,  Yael Novak
Yael Novak
Graduate of the Hebrew University in Jerusalem, I turned to ceramics after working for several years in special education.
A chance encounter with an exquisite wood fired ewer led to a career change and a lifetime commitment to clay.
Ceramic objects fascinate me. I regard them as containers of ideas and three dimensional bases for the exploration of personal and philosophical issues concerning the creative process.
As a production potter, ideas of containment and multiplicity are at the root of my artistic expression. These ideas are manifested in my sculptural and utilitarian work. I produce a wide range of thrown and altered tableware and one-off pieces incorporating elements of function and utility with humor and whimsy.
I am mainly concerned with simplicity of form and decoration. Repeated minimal decorative designs enhance a simple yet elegant repertoire of forms. My pots are for domestic use and enjoyment in the rituals of everyday life.
Being able to give someone the pleasure of interacting with an object of warmth and comfort at the start and end of day is my reason for doing what I do.
A studio potter since 1990 – I have taught, curated and exhibited throughout the world and participated in several workshops, professional conferences and symposia.
My studio – 'Pottery Lane Studio and Gallery' is located in the Haliburton Highlands
June 11th, 2012
Melissa Schooley – gorgeous porcelain work.
Please see our photo gallery for images of Melissa's recent visit.
May 14th, 2012
Kai Eichenbaum – Handbuilder from Burlington
April 2nd, 2012
'BIG" throwing demonstration with Wayne Cardinalli
Wayne left us with a lot of information and member Karen Hort-Jensen has kindly written up some of his pointers in this pdf document here. Thank you Karen!
March 12th, 2012
Karina Bates took us through some TaiChi steps to help potters with back, shoulder, hands and arm problems.
February 13, 2012
Open discussion by all guild members for 2012 Christmas sale guidelines. All welcome. If you want to have a say, please come to this meeting.
January 09, 2012
Kim O'Brien of Indigo Dragonfly  gave us a presentation about the new social networking.
This is what she says of herself:
"I've been a practising artist and crafts-person since 1992. At the same time I've also worked as the Executive Director of organizations such as the Arts Council~Haliburton Highlands and Visual Arts Ontario, and in Communications and Marketing for The Nathaniel Dett Chorale, The Laidlaw Foundation and the Arts Network for Children and Youth.

Currently I have a small, arts based business called Indigodragonfly which produces hand dyed yarn and patterns, as well as representing local artisans to a worldwide market. Our business is run almost entirely online, with 95% of our clientele outside of Canada. We've recently been featured in Vogue Knitting International magazine.

My presentation will be about how we've built a worldwide business and community around our craft, using social media and online tools as our primary way of communicating with our clientele. I'll also talk about how we're starting to draw people to our home studio as well, as I think that's an important link that would be helpful to you."